The Next Target to Fight Dementia: White Matter Disease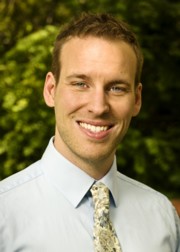 Walter Swardfager, Assistant Professor Brain scientists have found that white matter disease chips away at memory by shrinking the brain, and contributing to dementia more than initially thought.
"These findings highlight that the role of white matter disease in dementia has been under-appreciated," says  Walter Swardfager, lead investigator of a new study and an assistant professor in the Department of Pharmacology and Toxicology. . "This may help to direct the next generation of treatment strategies."
White matter hyperintensities (WMH) are bright spots on MRI scans – tissue in the brain that is wearing away due to effects of aging and vascular risk factors on the brain's small vessels.
The research, published in the February 2018 issue of the journal Neurology, showed that individuals with extensive small vessel disease had profound shrinking of the temporal lobe, an important brain region that is instrumental to learning and memory function.