Cutting the power on breast cancer cells
Faculty Awards & Recognition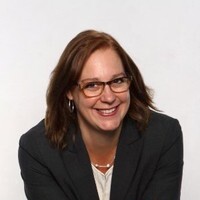 Congratulations to Dr. Rebecca Laposa, Department of Pharmacology & Toxicology, for receiving one of two Ontario First seed capital awards. The Prospects Oncology Fund award comes from FACIT (Fight Against Cancer Innovation Trust), Ontario's oncology commercialization venture firm.
Dr. Laposa is developing novel small-molecule inhibitors that target cancer cell mitochondria, a fuel source that many cancer cells rely on during chemotherapy. Specifically, she is developing inhibitors of the RNA polymerase unique to the mitochondria. The strategy reduces the expression of electron transport proteins to shut down oxidative phosphorylation. Initial hits were identified via an Artificial Intelligence Molecular Screening (AIMS) partnership with the University of Toronto spin-out company Atomwise.
The initial indication for this potential drug candidate is high-risk early breast cancer, but the mechanism of action is relevant to multiple cancer types
"It's a delight to be involved in this highly collaborative project. The work is a tight partnership with the larger PharmTox Departmental community; Associate Professor Dr. Rima Al-Awar's Drug Discovery team at the Ontario Institute for Cancer Research will be contributing medicinal chemistry expertise. It's been great to work with different disciplines and perspectives in this project, and to benefit from the community and resources of two Institutional Strategic Initiatives at the University: Mito2i (mitochondrial health) and PRiME (precision medicine)", says Laposa.
The award is unique in that FACIT leverages Ontario First capital to propel cancer intellectual property, and it is strongly aligned with Ontario's life sciences commercialization strategy. FACIT builds companies with entrepreneurs - their portfolio has attracted more than $1 billion in investment to Ontario.
"We are pleased to support these Ontario entrepreneurs, and continue our mission to elevate local innovations to reach the market and benefit patients with cancer," said Dr. David O'Neill, President of FACIT.
"Ontario's first-class researchers and research facilities allow Ontario to build on our strong reputation as a leader in cancer research and innovation," said the Honourable Ross Romano, Ontario's Minister of Colleges and Universities. "We are proud to see investments supporting Ontario-made research, innovation and commercialization that introduce new cutting-edge technologies that make a great difference for those battling breast cancer."
Read more: https://facit.ca/news/facit-fuels-promising-made-ontario-breast-cancer-therapeutic-and-medtech-innovations-through