Take Pride, Take Action: Q&A with Jordan Goodridge & Gianni R. Lorello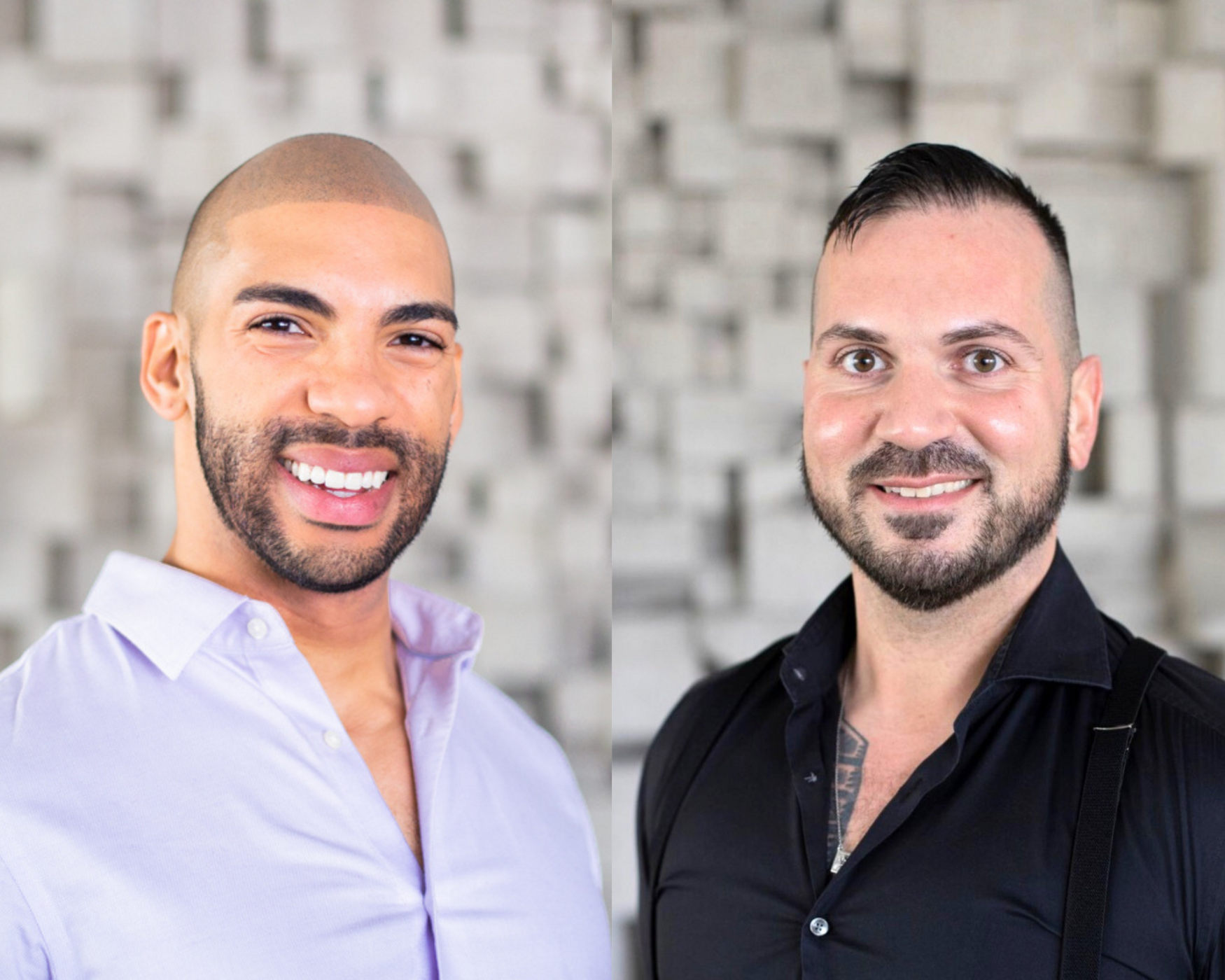 Pride is an important time for medical professionals and health care at the University of Toronto. Many health faculty members and students identify as 2SLGTBQIA+, and patients increasingly need affirming care that recognizes their gender and sexual orientation.
Jordan Goodridge is a lecturer in family and community medicine at the Temerty Faculty of Medicine, and a family physician at Sherbourne Health. Gianni R. Lorello is an associate professor in the department of anesthesiology and pain medicine at U of T, the 2SLGBTQIA+ Health Theme Lead for the MD Program at Temerty Medicine and a staff anesthesiologist at Toronto Western Hospital, University Health Network.
Both spoke with writer Jerusha Retnakanthan about Pride and their education work in 2SLGTBQIA+ health, hoping to spark creative ways for Temerty Medicine community members to take action in their own practice.
How do you connect with Pride Month? Is there anything that resonates with you, or challenges you?
Goodridge: Pride provides space to connect and reconnect with others in our community. I think that this has particularly been a challenge over the pandemic, especially as 2SLGBTQIA+ individuals who often go to our communities as a source of support and comfort.
Over time, Pride has become better at recognizing the diversity within the community — there are events representing different sexual orientation groups and gender identities, and also different races, religions and class positions. We still do have a way to go to ensure Pride feels inclusive to everyone in the 2SLGBTQIA+ community.
Lorello: I strive to promote Pride in my professional and personal spheres as it's important for me that everyone is treated with respect and dignity, and that we have an inclusive environment in which everyone belongs. I promote Pride to ensure that anyone with whom I come in contact knows that there is nothing wrong with self-identifying as 2SLGBTQIA+.
The challenges that I am feeling right now are not necessarily towards myself as an individual, but the politically charged climate regarding human rights protections and violence against 2SLGBTQIA+ people. I want to centre transgender and gender diverse people, especially transgender and gender diverse people of colour, who are experiencing extreme amounts of physical, psychological and psychosocial violence.
In your work, what are you doing to improve the experiences of 2SLGBTQIA+ people in health care?
Lorello: It's important to recognize the historical, traditional and current environments that cause trauma. Our actions should work to dismantle these systems as well as educate during every encounter with patients, learners and colleagues. In my roles, I am available as a sounding board for anyone in the Faculty — whether in a clinical, research, education, administrative or any other area — struggling with their identity and the process of coming out.
Goodridge: Through the Complexity and Chronicity course in the MD Program, we have specific content tailored to the 2SLGBTQIA+ community and historically minoritized groups. My aim for the education I do with Rainbow Health Ontario is to increase all health-care providers' (practicing physicians, nurses, nurse practitioners, pharmacists, etc.) competency and comfort in caring for 2SLGBTQIA+ populations and their unique health needs. I am also a facilitator/lecturer with CAMH's ECHO Program on Transgender and Gender Diverse Healthcare, which offers a 16-week program (meeting once weekly) each year on transgender and gender-diverse health care for multidisciplinary providers, primarily targeted to those working in rural and remote areas.
U of T's and McMaster's Physician Assistant programs ask me to speak each year on providing care for the 2SLGBTQIA+ community. I give a similar talk to the Touchstone Institute, where I speak to residents and fellows trained outside of Canada who sometimes come from very different backgrounds, both in terms of upbringing and in terms of medical training. I think it's really important for me to identify and recognize that participants may come with wide-ranging baselines of knowledge and understanding of the 2SLGTBQIA+ community. But it's promising that I can generally sense an air of curiosity and wanting to do better, which I think is important for us all.
Lorello: Yes, in both national and international conference spaces, we see cultural differences and how they impact equity and people's health. When presenting in these spaces, I try to avoid perpetuating what Dr. Thirusha Naidu has termed a Northern tilt. This avoids creating one dominant narrative but rather being in conversation with folks from different geographical positions with their political, cultural and historical differences.
I'm completing my PhD in critical social theory at the Institute of Health Policy, Management and Evaluation at U of T and the Wilson Centre, where I am looking at illuminating and describing ruling relations that organize sex and gender minority physicians while taking an intersectional lens. This, along with my role as 2SLGBTQIA+ Health Theme Lead for the MD Program, provides me a platform to marry the physical and social sciences while taking this intersectional lens to my work, in hopes of shaping the next generation of physicians.
How can Temerty Medicine and the U of T community meaningfully support the health and inclusion of 2SLGBTQIA+ people?
Goodridge: I encourage critically looking at the spaces in which you work, and identifying both how they are currently inclusive to various minority groups and what can be improved upon. There are small actionable things we can do to achieve that first important step of welcoming 2SLGBTQIA+ folks into healthcare spaces: What signage can we use on our walls? Who is represented in our posters and pamphlets? Are there visible signs of welcome in all our materials (intake forms, case studies, etc.)?
We all want to be doing the best we can, and it can be uncomfortable to identify gaps in our own work environments and in the care we provide. But, as gimmicky as it might sound, we need to become being comfortable with this discomfort in order to make meaningful change.
Lorello: We need to remain reflexive of our own social locations and privilege, power and oppression, and how they influence our own world views and potential biases. I also encourage health-care providers to understand the fluidity of expression and identity. One thing I learned in my practice as an anesthesiologist is to only ask questions that are necessary to my work, and to clearly situate why I am asking certain information.
We are all human and make mistakes. We can move forward with a sincere apology and then take steps to minimize that mistake from occurring in the future.
Anything else you would like to share with the folks reading?
Goodridge: The key takeaway Gianni and I are hoping to leave you with is to stay curious and open to receiving feedback — even I need to keep up to date on new terminology that better serves our patients. And if there are opportunities for you to get involved in this work, please take them!